2019: A Year in Review
Dec 30, 2019
It's hard to believe another year has come and gone. It's been quite a year! Some good, some bad, but most of all it's been a growing year. There has been a positive change in my 9-5 office life and some in my art life as well. Progress on both fronts has been made and that's what matters the most.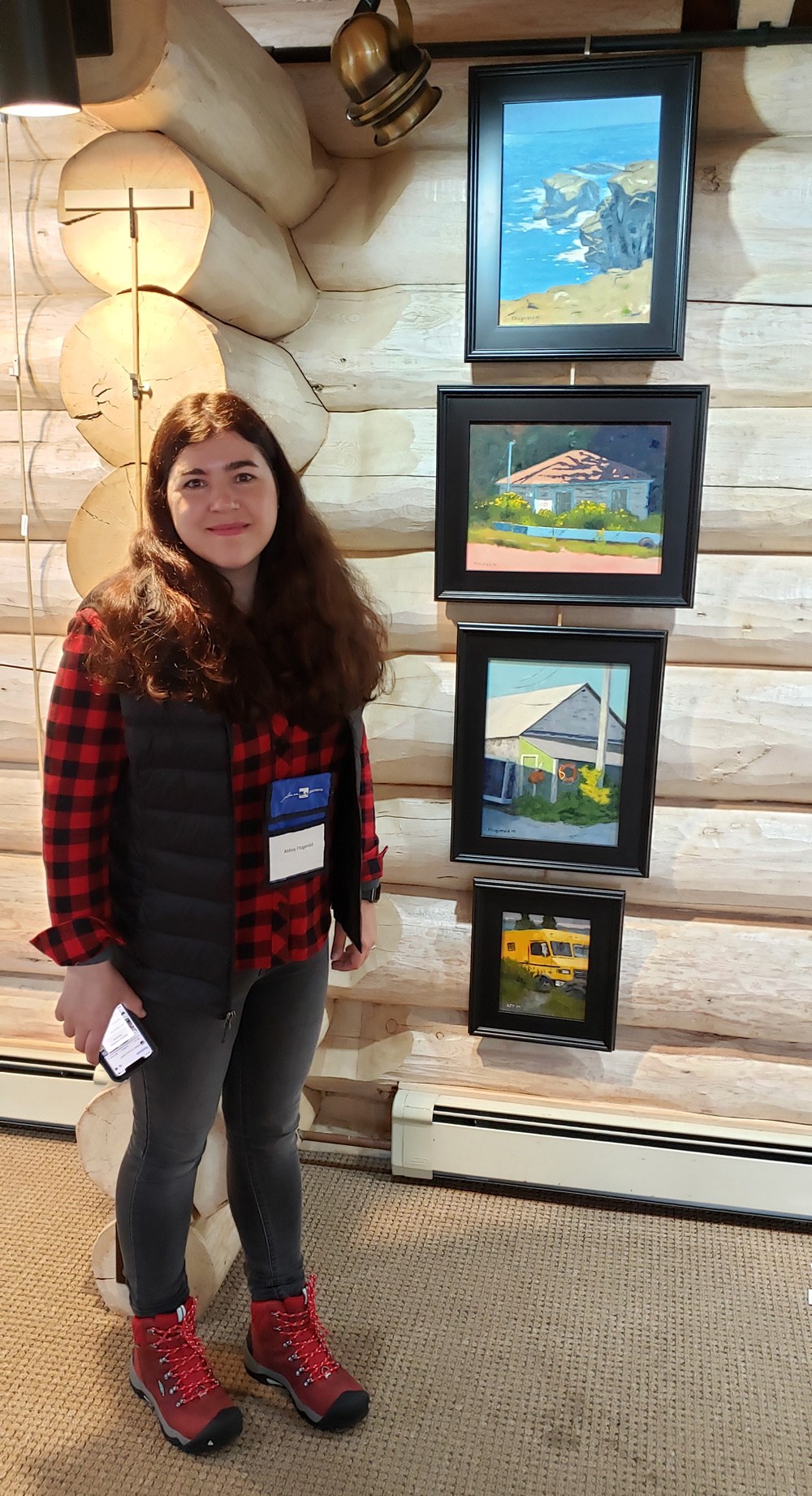 Looking back to 2018, I took a moment to reflect on my thoughts and goals from last year. 2018 was the year where I really started "putting my artwork out there" and had the opportunity to participate in a few shows and events. In 2019 I continued to find opportunities and this has given me momentum for 2020.
Still life painting highlights
Still life study
Even though I am no longer in school, I am always studying. I cannot tell you how many little studies I have tucked away in my studio. These may or may not lead to larger works, but it keeps me busy in the studio.
Fruit study series
Since I love light and shadow, what better way to study than with fruit? I really enjoyed capturing the translucent fruit slices. It was a valuable experience to compare and contrast the light shining through the translucent areas and the more opaque nature of the pith (I think that's what it is called).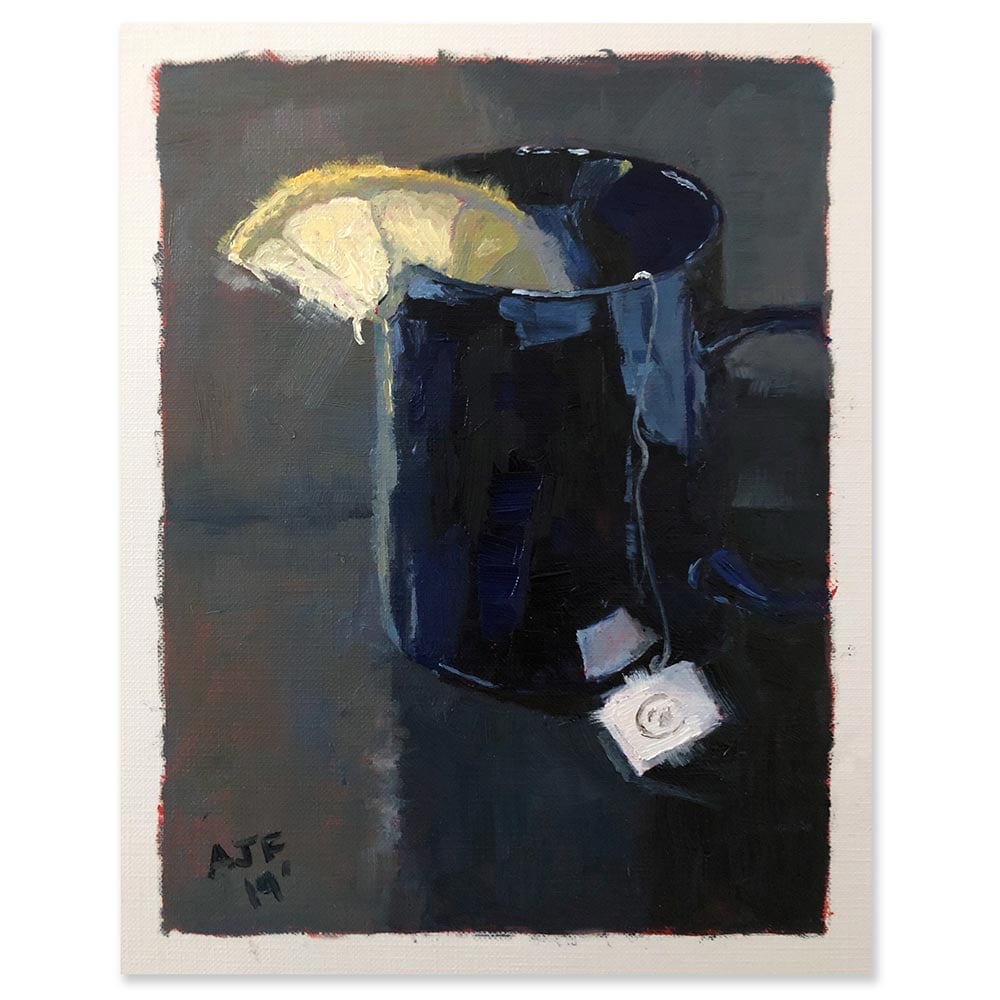 Paintings on display
The Minnesota State Fair
This was a big one for me. Those fruit studies really paid off! I never expected my painting to be chosen to be in the 2019 Fine Arts Competition. It's very competitive with a two-phased juried process to be selected. I was ecstatic about making it through the first phase. It was an honor being part of the exhibit and being part of such a great show. Midnight Snack was at the MN State Fair and found a great new home!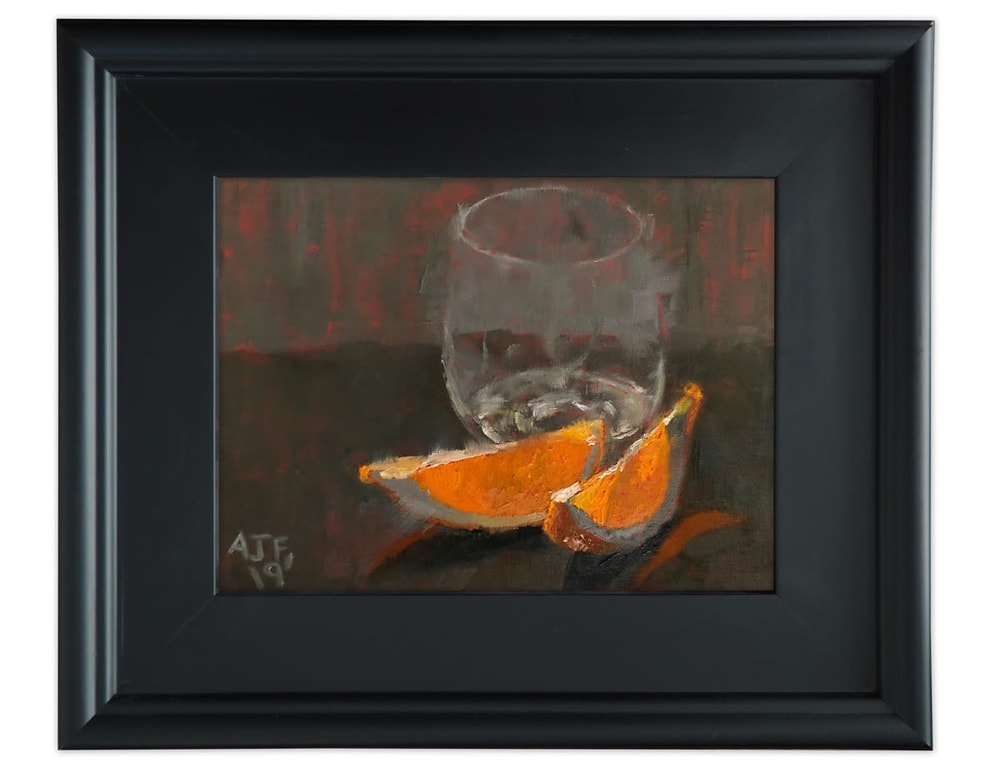 Plein air painting highlights
Camping and painting
The idea of regular camping seemed to stick this year (last year too). Although it can be hard to get away, I certainly do miss the city on the weekends, but it's a great way to explore painting locations that I may not ordinarily find. Camping in Hayward, WI gave me a chance to explore the town.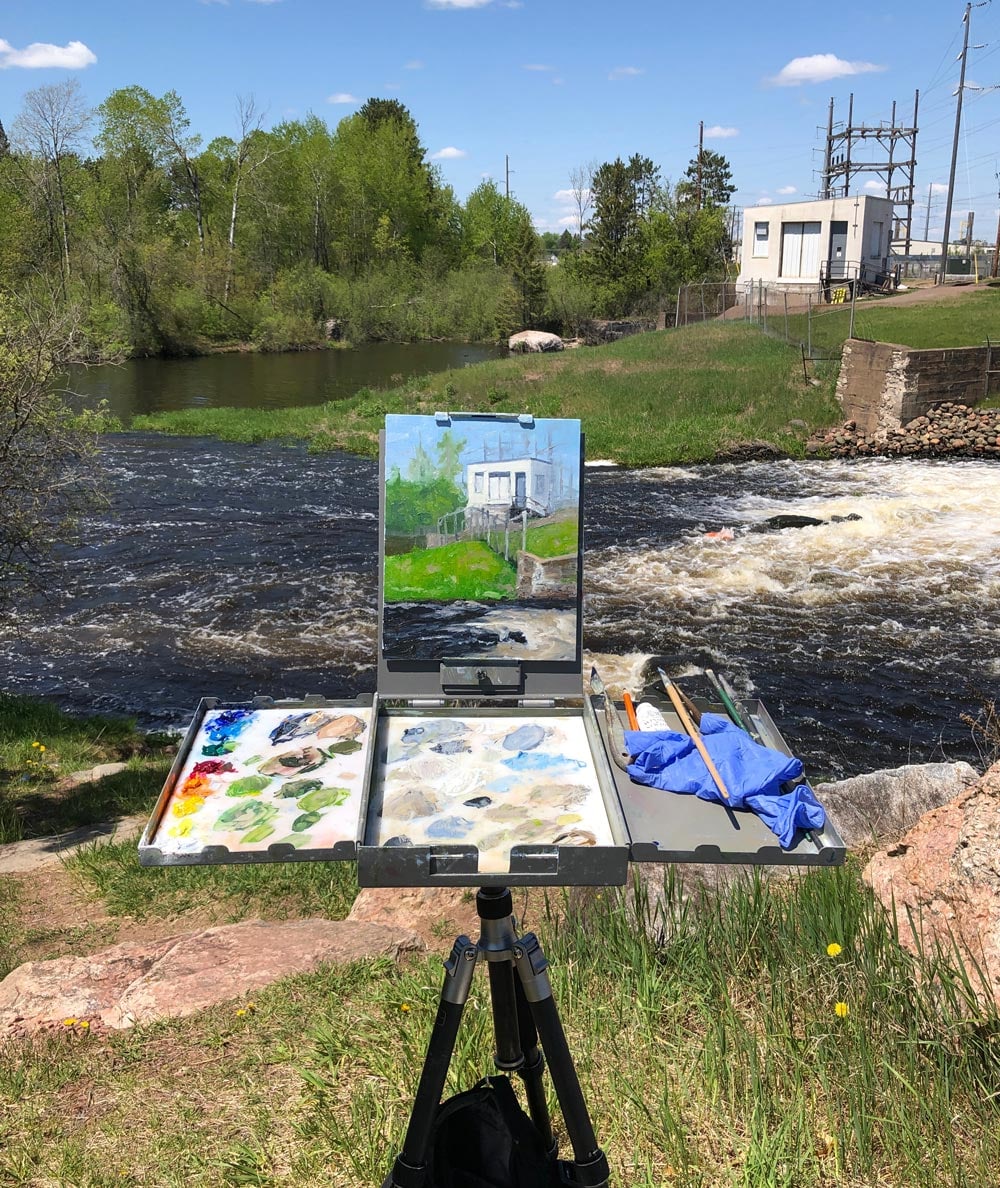 Plein air events
Painted bigger in Port Wing
In 2019, I said I was going to paint bigger. Well, I'm happy to report that I did. Some 12 X 16" panels were covered. Baby steps :-) It's an adjustment to go larger. Some artists say it is easier, I'm still trying to formulate my opinion. As I paint faster, 9 x 12" canvases are my new 8 x 10's if that makes sense.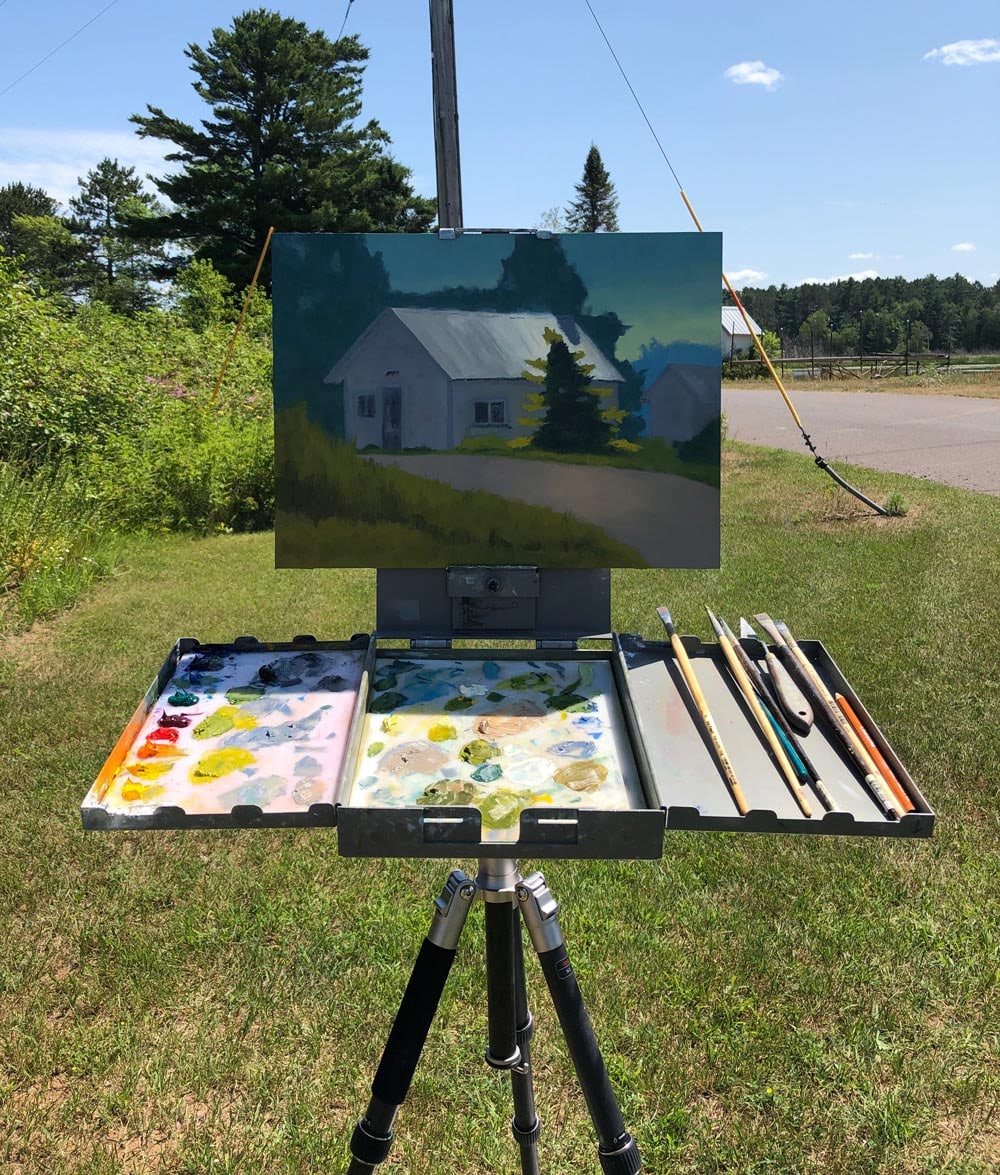 Port Wing is such a great place to paint. Whenever I spend time there, I'm always reminded of the great water and marina views, the peaceful forest, and other places in town. Driftwood is tough to draw, has interesting shadows and it's a challenge to simplify. Time well spent, if you ask me.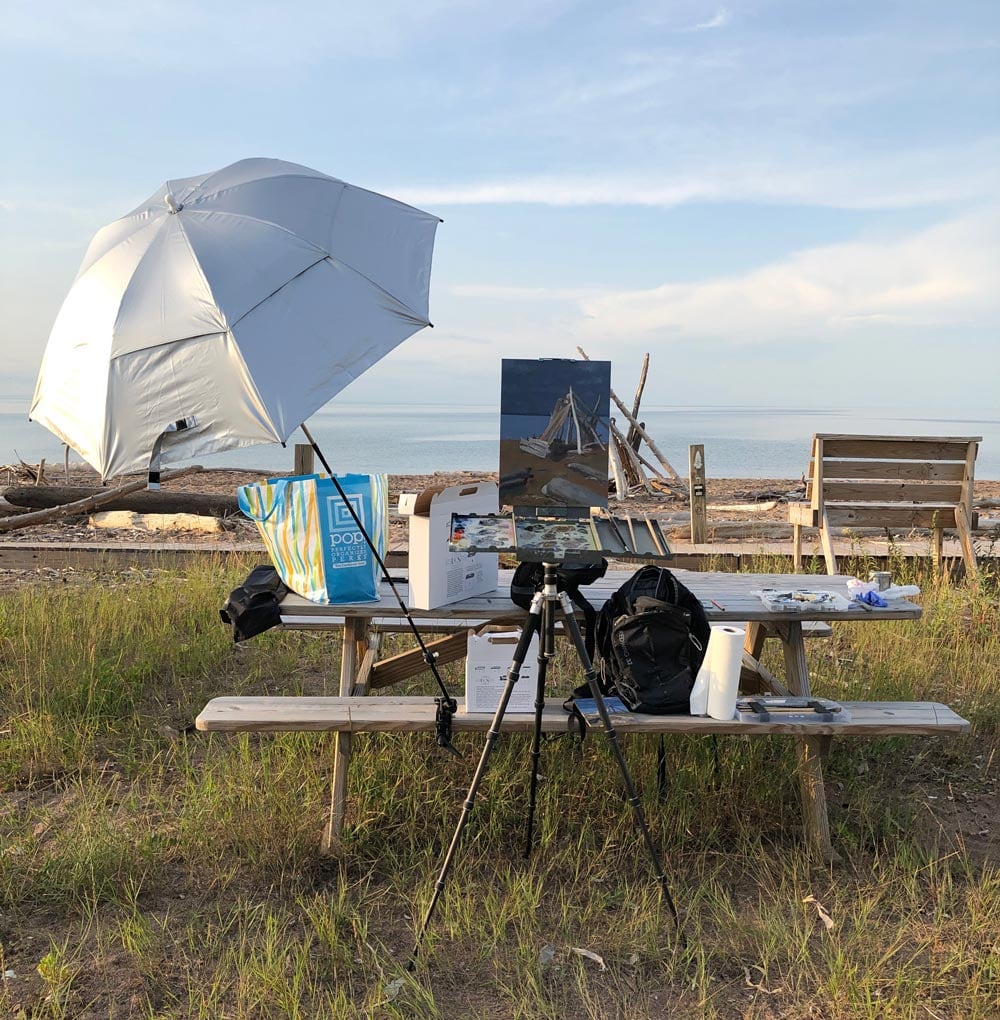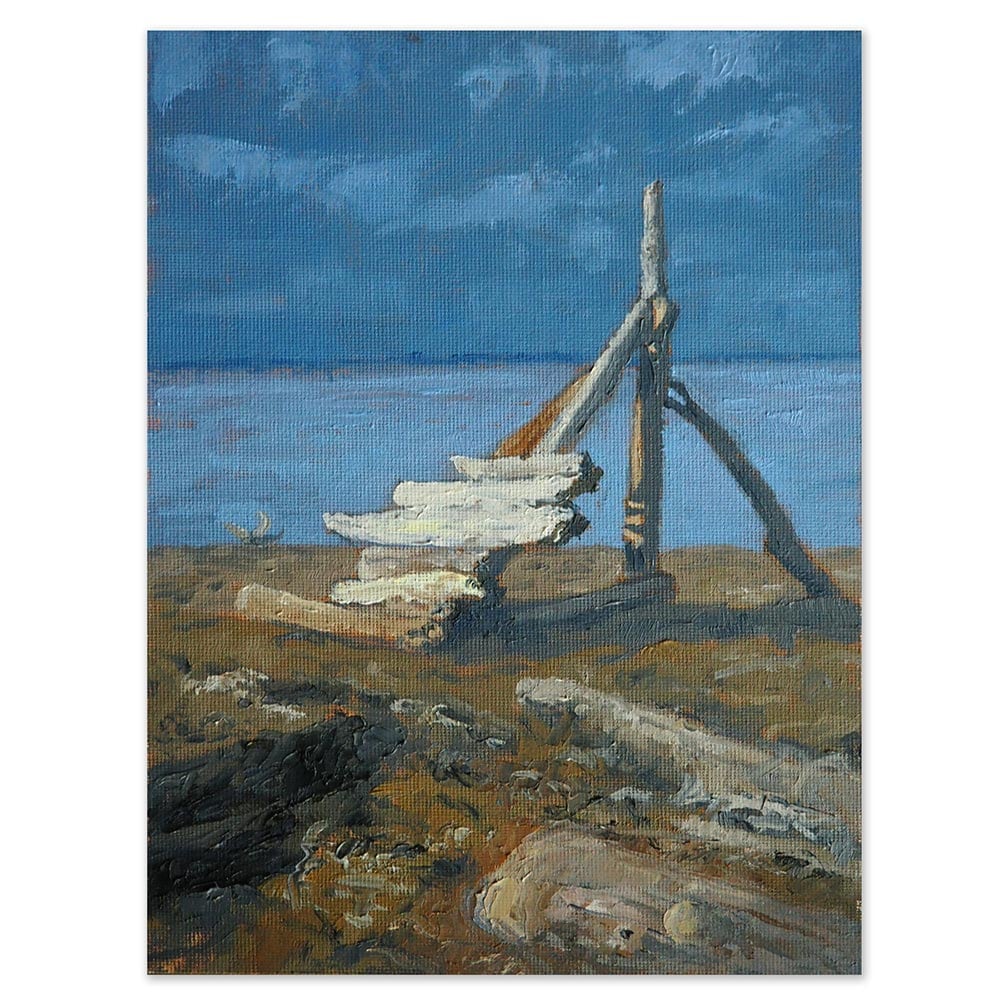 Plein Air Grand Marais
There's not a place that is more beautiful than Grand Marais, MN. It's easy to see why it is America's coolest small town.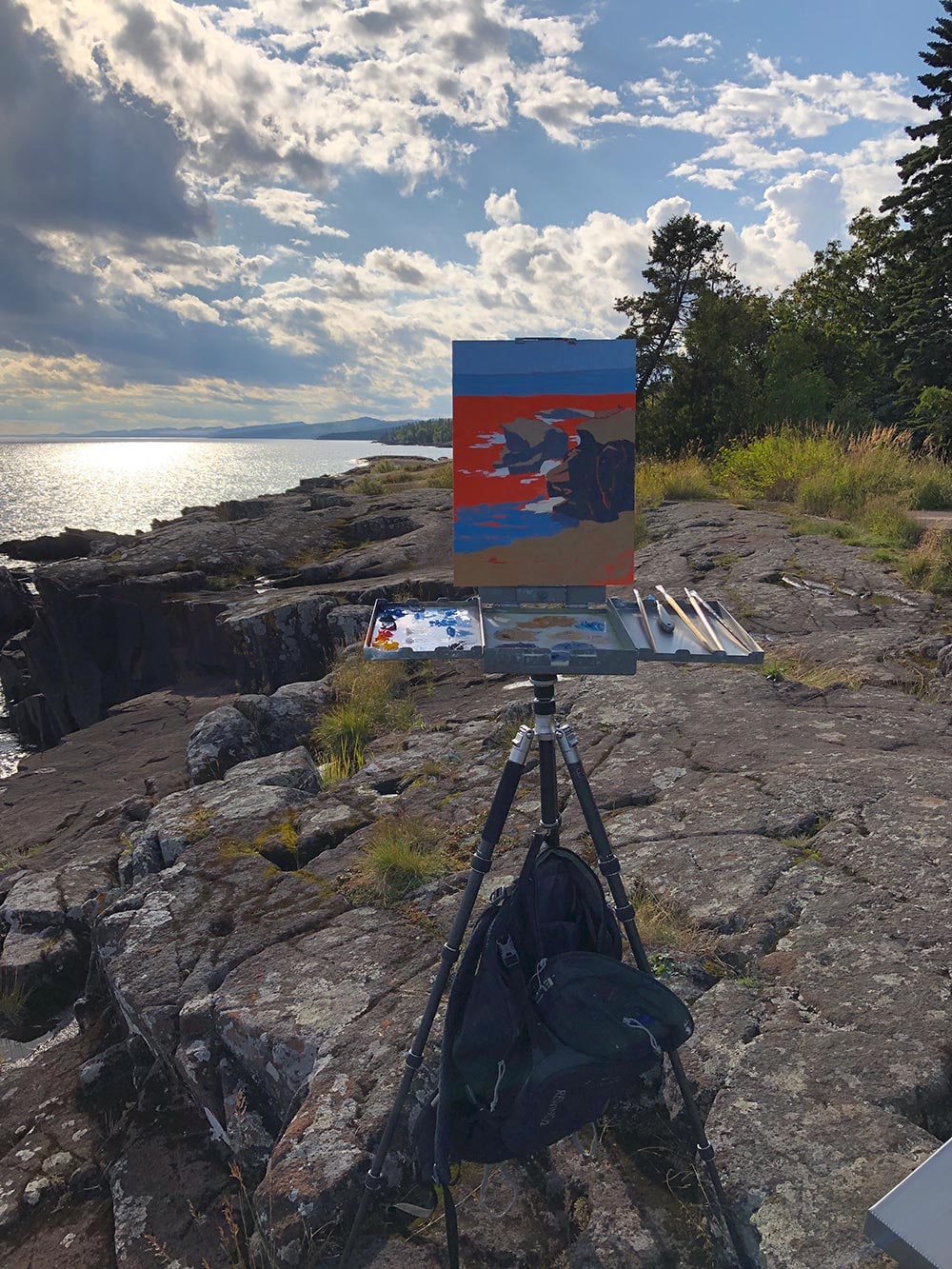 This was certainly the most adventurous plein air experience that I've been a part of. The weather was a bit strange this September in Grand Marais. Cold, rainy, and very windy! There were a few times that I had to hold onto my easel, one of which was during the quick paint.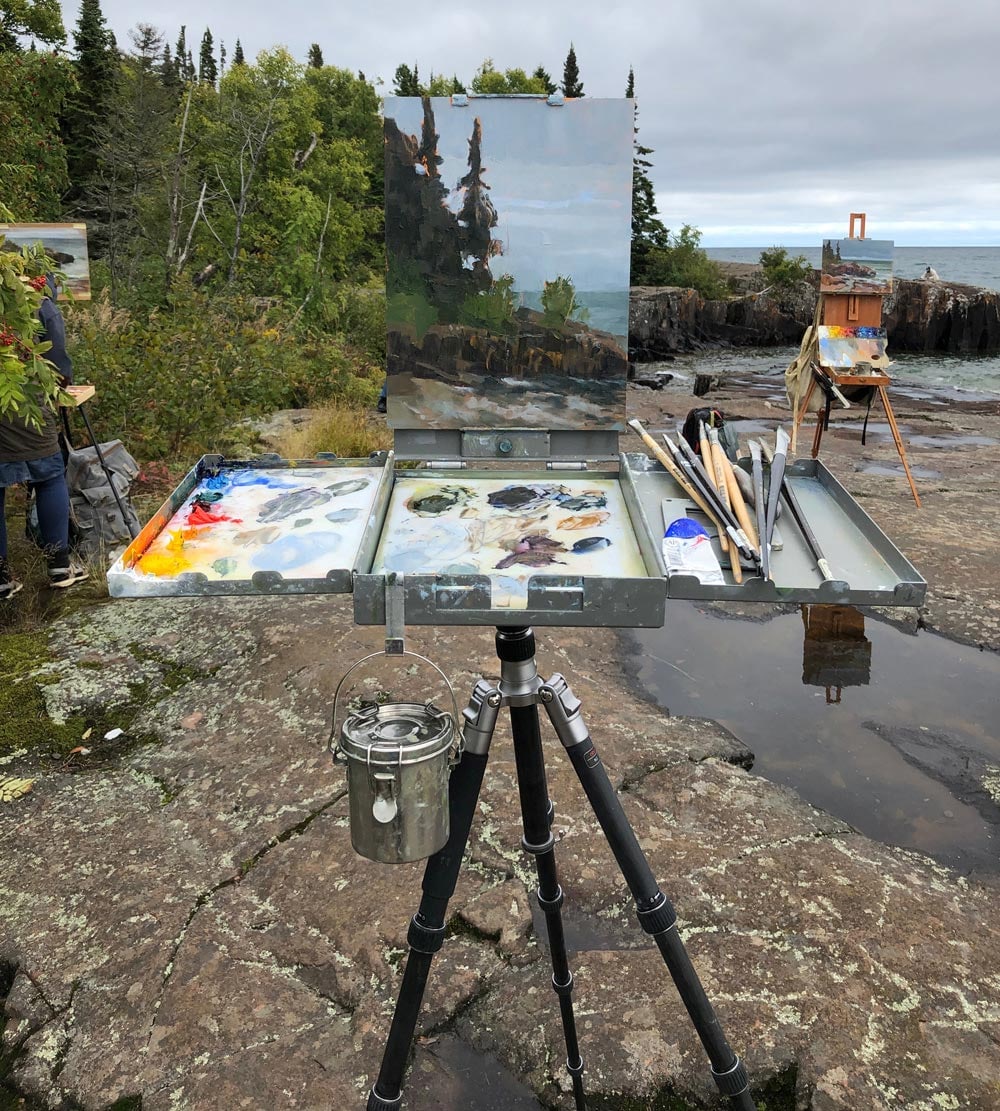 The competition was about a week-long, which was great because I could take my time. I had time to explore the town, sketch out compositions, do some experimentation, and learn how to brave the elements.
General 2019 thoughts
As I get older, I am reminded of how precious time is. I put a value on my time (and the time of others ;-) and find myself becoming more mindful of where I put my energy. 2019 has been good to me and I've been thinking about the business side of things more than I have in the past. This is something I will be improving on in 2020 and you can hold me to it! I struggle with the marketing aspect of my art and I want to be mindful that I am spending my time in the right place. I'm not a huge social media fan...like it or not, this is the new normal so I'm going to work on maximizing efforts.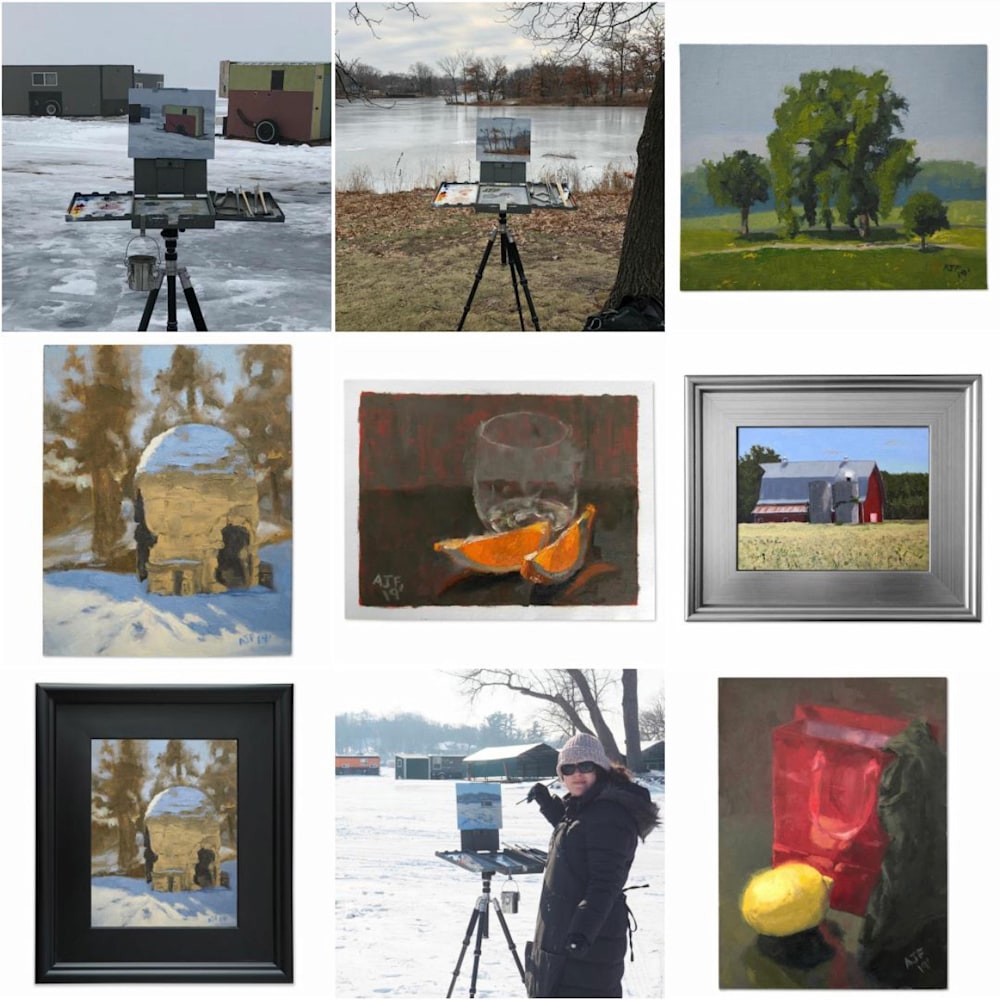 I was so pleased to have the privilege of doing some commissioned works for awesome clients! There's nothing more rewarding than working together to create something one of a kind. It's the best feeling when our time and effort was spent wisely and that the painting has found a good home. I hope the paintings are enjoyed for years to come.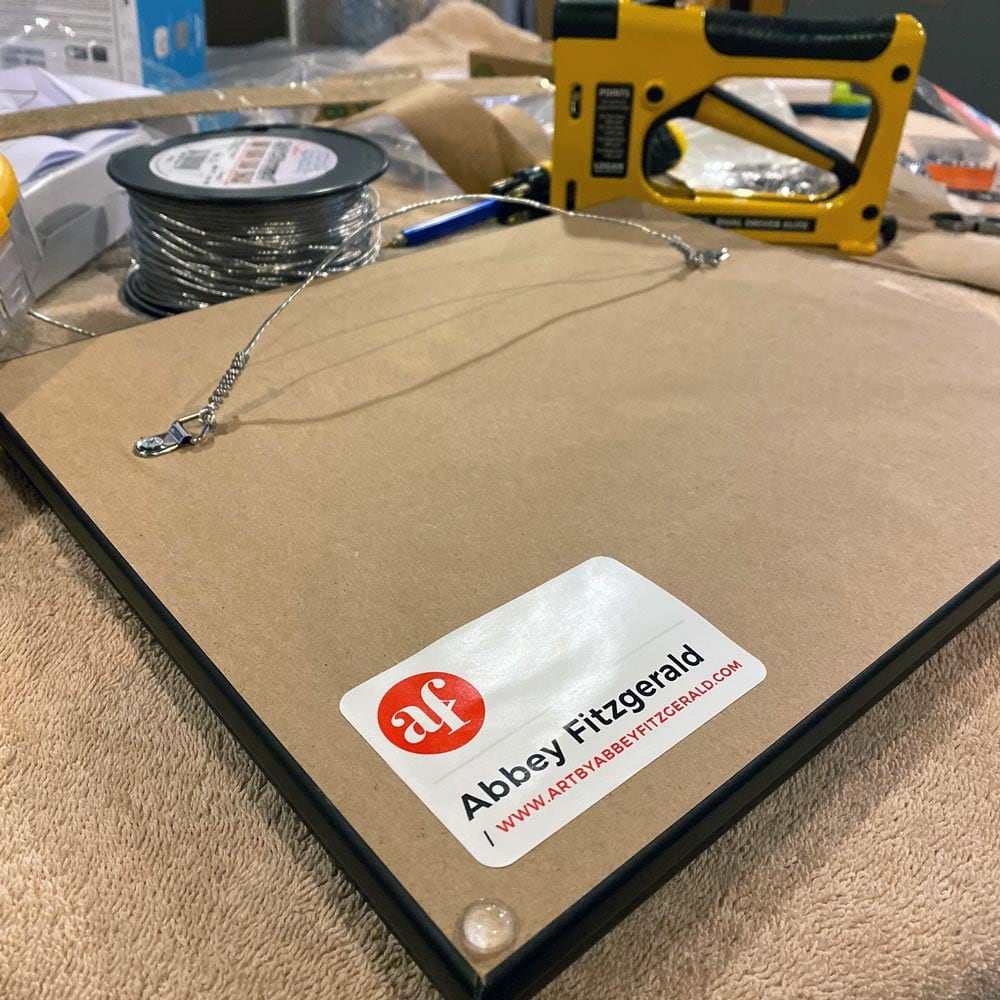 Exciting times in 2020
2020 is still being ironed out, but I'm already so excited for my first Plein Air Convention (PACE 2020) near Denver, CO. I'm really hoping for some mountain views, this will be a first for me. It should be intense, I'm sure the altitude training will help me :-)
I'm really looking forward to a display at Brookview Golf Course in Golden Valley, MN in June. It's one of my stompin' grounds and I'll be creating all new works for the occasion. It's a beautiful space and I'm beyond excited to be featured.
What are you up to in 2020? Cheers to a new year and keep me up to date with your happs!