Beehive Fireplace at Graeser Park
Jan 05, 2019
The famous Beehive Fireplace at Graeser Park
The weather was great today, it's hard to believe it is January in Minnesota. When the temperature is in the 40's (Fahrenheit) and it's a sunny day, there's no excuse not to get out and paint.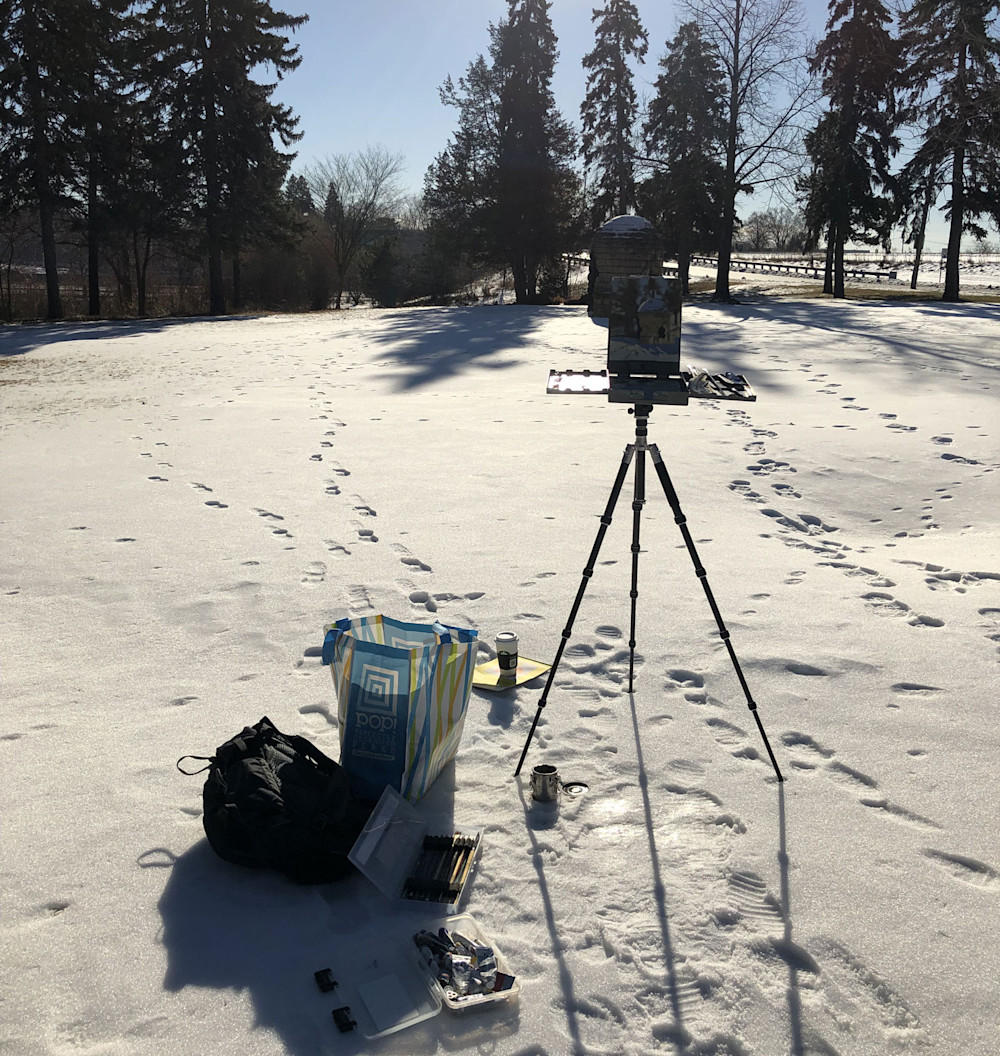 There was one place I was meaning to return to, which was Graeser Park in Robbinsdale, MN (Minneapolis suburb). I was there in the Fall and enjoyed painting the Beehive Fireplace, which the park is known for.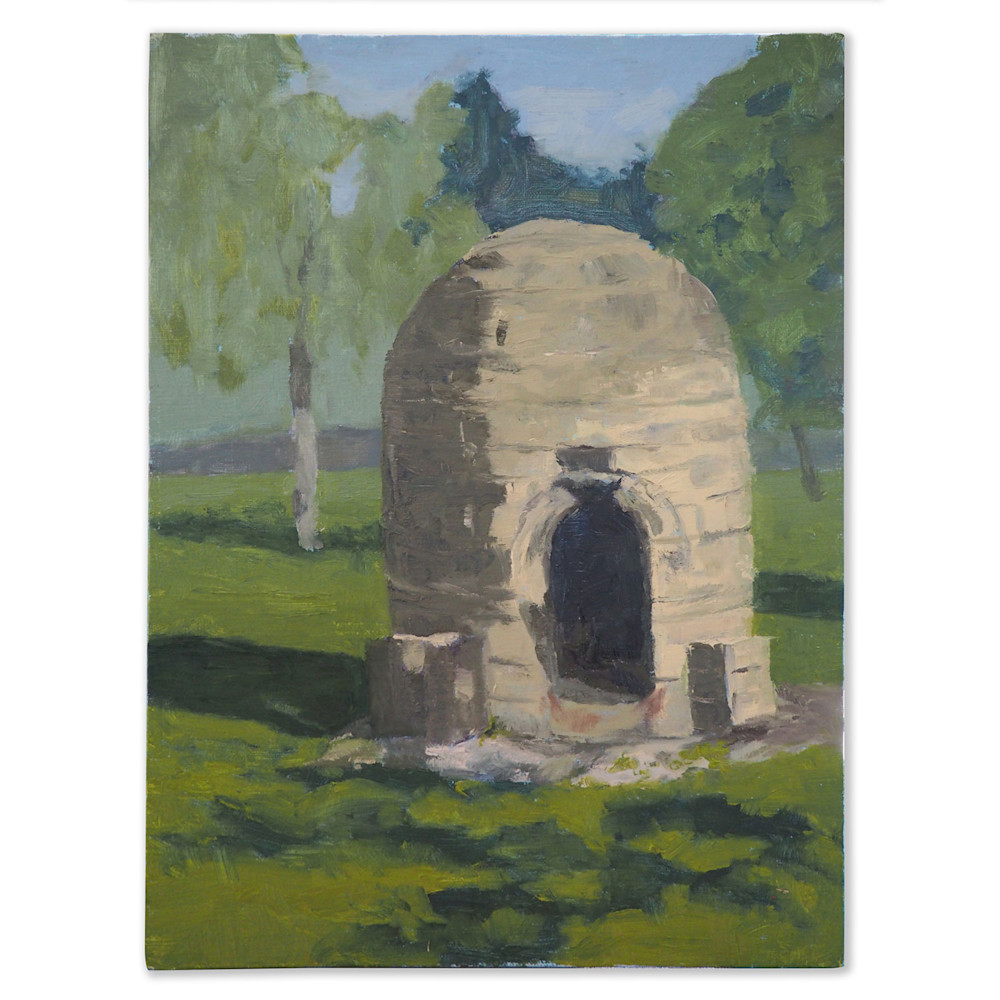 There's a lot of history here. This was once a popular destination where travelers would stop and have a picnic. The only thing I had at my picnic was some water and a mocha. I needed to get to work painting since the light was shifting quickly. I feel like the snow on the fireplace was melting before my eyes.
When I arrived, the scene was backlight, which I wasn't sure about at first. I knew that I wanted to capture the fireplace from a different side this time. There was a great highlight on the left side, so I made a decision to just go for it before the light changed too much. I mapped in the highlights and shadows and worked quickly.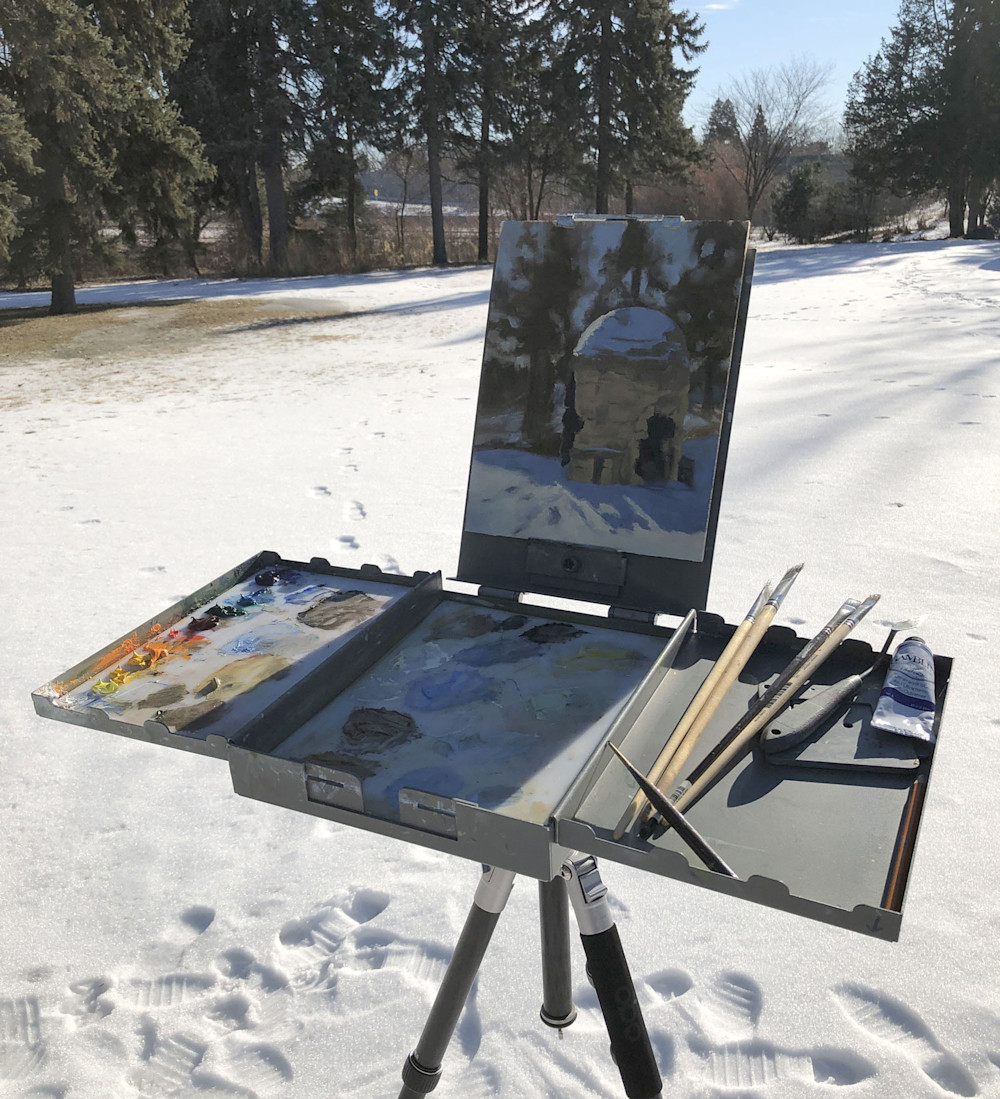 It was great talking to a few people who are local to the area that stopped by. They think the park and fireplace are very special for the community and are hoping for improvement so it can be restored. There was vandalism and the fireplace is in disrepair. Other parts of the park are overgrown and it would be nice if the park could be restored to its former glory.
If you visit the Robbinsdale Historical Society's website, there are old photographs that show what the park originally looked like. It was along what is referred to as Lilac Way (Highway 100). How did it get its name? The Golden Valley Garden Club sold 8,000 lilac bushes and peonies roots for 15 cents each, raising funds for lilacs along Lilac Way. They earned money to buy the lilacs that were planted between Glenwood Avenue and Golden Valley Road. The MN Highway Department planted the lilacs. I'll make a note to check back in the Spring. Maybe there are still lilacs in this area.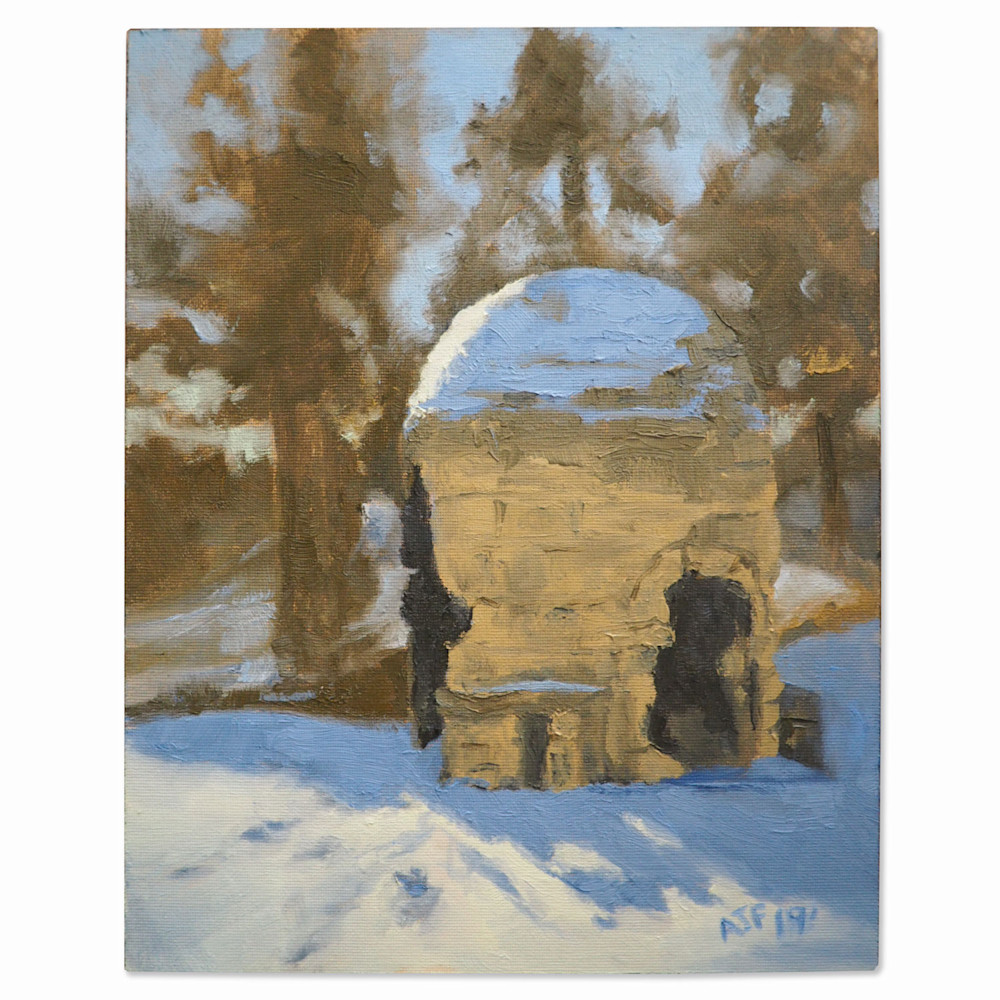 There's a lot of history here, and hopefully, someday it will be restored. It is one of two fireplaces that survive. This one at Graeser Park is in its original location, the other was moved during a restoration project to a new location. This was originally hand-built during the Great Depression. Unemployed stone masons from the WPA (Workers Progress Administration) built this Beehive Fireplace.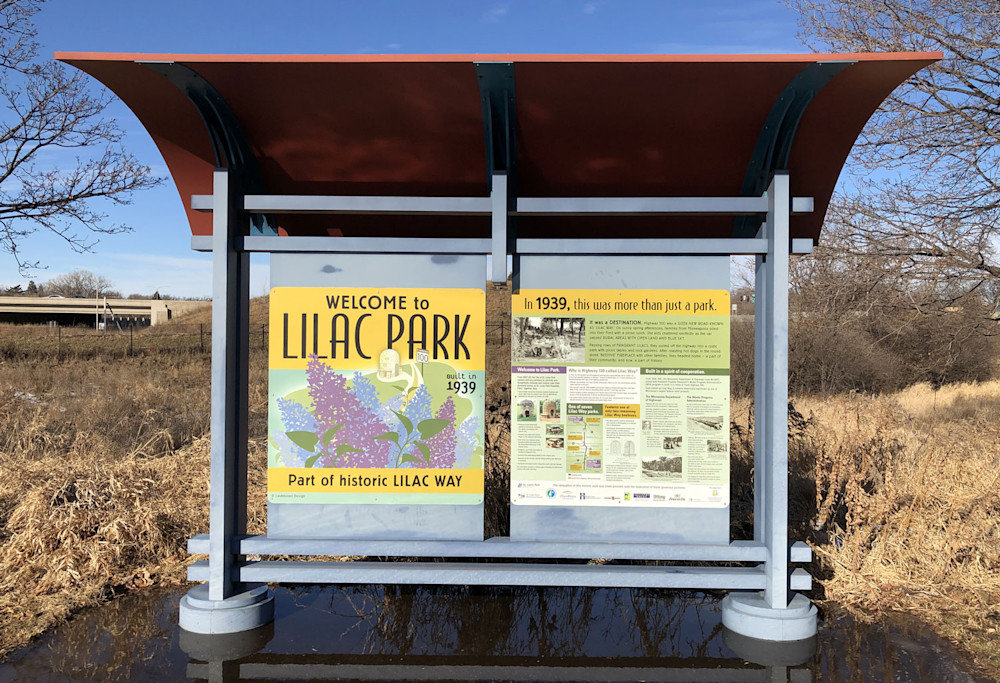 Graeser Park was one of 7 parks along Lilac Way. Only two exist now and Graeser is one of them. Lilac Parks is the second.
Another Beehive spot at Lilac Park
Since it was so nice outside, I thought I'd take a drive a few miles down Highway 100 to Lilac Park in St. Louis Park. It is restored and the Beehive Fireplace is in much better shape. It doesn't serve as a fireplace anymore, a door has been added. The restored beehive fireplace was moved from the Old Lilac Park at Minnetonka Blvd. to this location.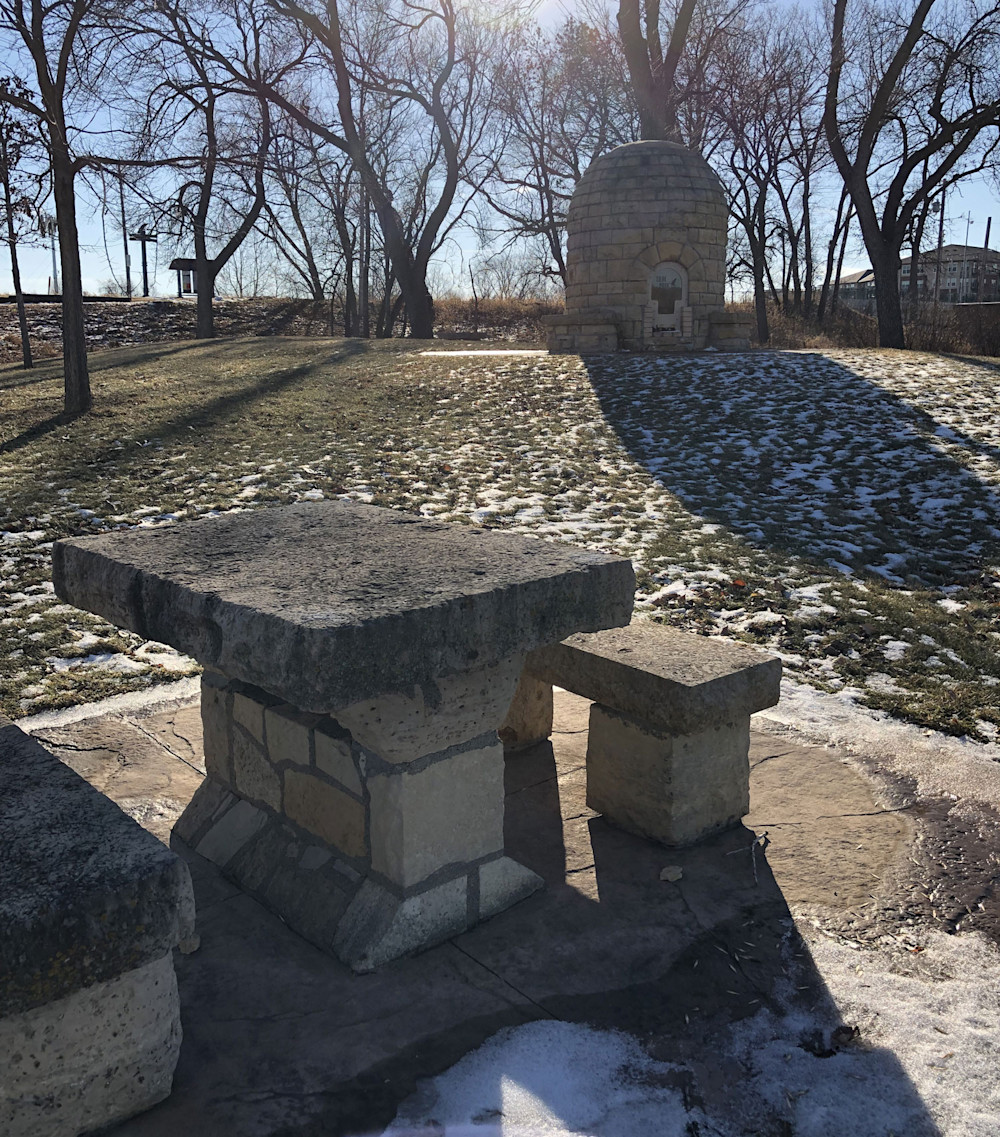 There is a paved walkway and it seems to be more traveled than Graeser Park, since the park is directly accessible from the Cedar Lake Regional Trail. Two of the restored picnic benches, with a view of the highway.
All in all, it was a productive day. I enjoyed learning more about the park and will make a point to stay up-to-date with any restoration plans.