Winter Plein Air Painting Tips
Dec 09, 2018
Winter is here in Minnesota and I'm looking forward to plein air painting this winter. It's been a bit "between seasons" at the moment. I've been doing some planning, website work, traveling, and journaling. It's time to get back to it!
I'm speaking as someone who lives in the Midwest. There's nothing like a fresh snowfall in Minnesota. Winter colors are refreshing after painting a lot of summer greens and bright fall colors. Snow is fun to paint, the beautiful blue shadows and crisp skies make for beautiful subjects.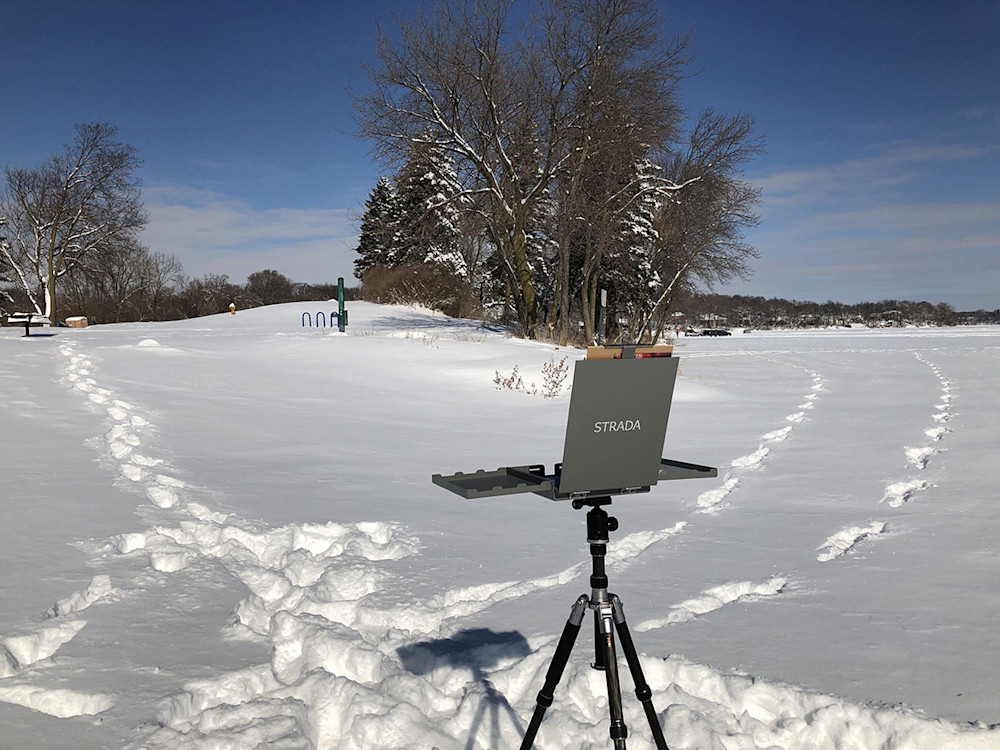 My medium of choice is oil paint, so this makes it easier than acrylics or watercolor for winter painting. Although artists successfully paint outdoors with these mediums, it does pose more of a challenge because paints will freeze in a short time.
Of course, there's the option to paint from your car. This is a good option if you can make it work and can view the scene from your vehicle. I haven't had much luck with it, so I'm still trying to perfect my outdoor painting strategy.
The winter of 2017-2018 was my first cool plein air season, so I still have a lot to learn. Here are a few things that I figured out last year.
Tip one: wear the proper attire
This may seem obvious, but dressing for the weather is important. You may know the saying "there's no bad weather, only bad clothing". This is very true. Make sure that you are properly covered up to avoid frostbite. I've been in some deep snow where I lost my footing and fell right into it (probably looked really cool). It's important to stay dry. Waterproof snow pants are both a windbreaker and waterproof so they are a good thing to wear outside if you have them.
I paint with sunglasses on, even though that does affect color accuracy quite a bit. On a sunny day, the snow is just too bright for me. It's a safety thing as well, added to that is the fact that my eyes are very sensitive. I periodically check accuracy without my glasses.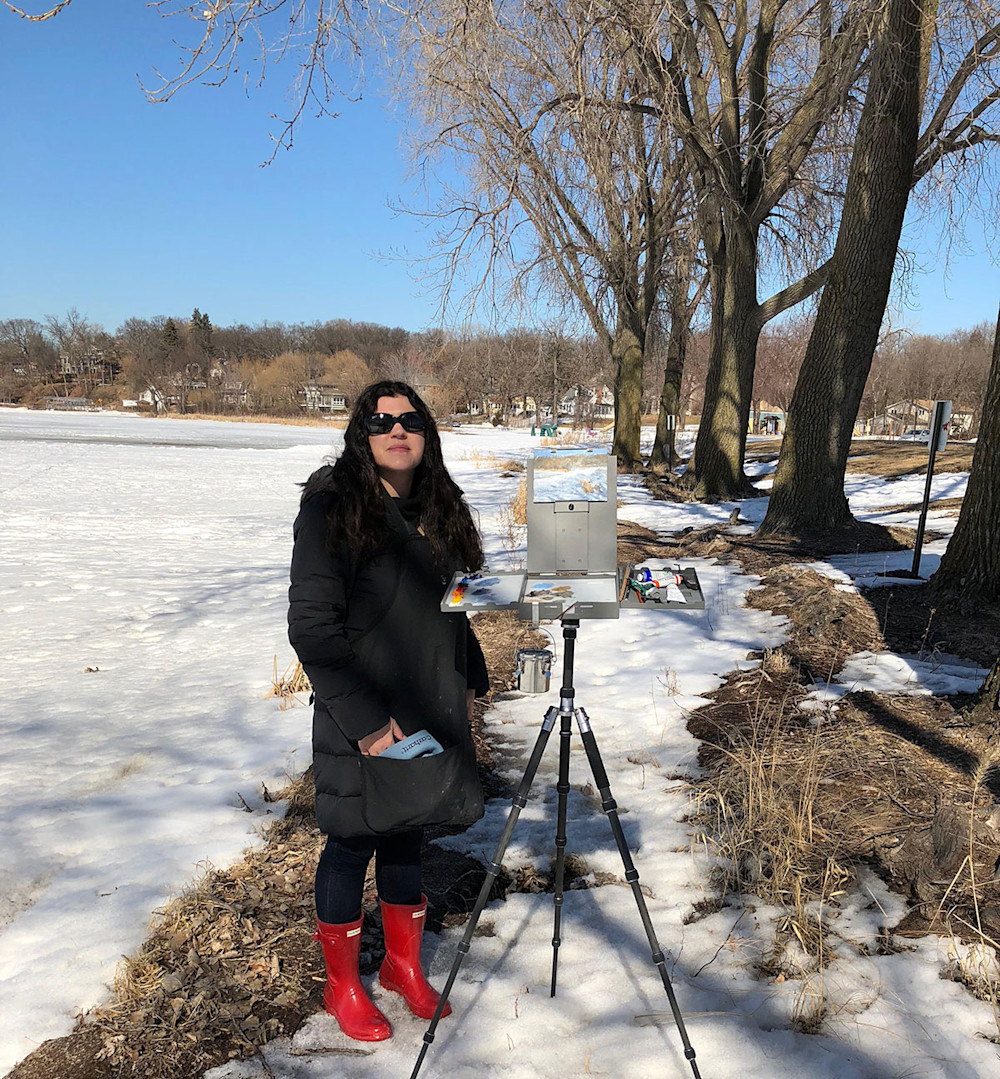 It's difficult to paint neat and keep paint off of clothing. If you can, have a dedicated, warm winter painting coat. You can be as messy as you want and it's one less thing to worry about. I have an old down coat with big pockets. As I paint, I keep my non-painting hand in the pocket to keep warm.
I'm still trying to find the best painting gloves. I use thinner winter gloves, I bought them originally for cross-country skiing. They work well for painting because they allow for better brush control than something thicker and bulky.
Tip two: use helpful winter equipment
One thing is helpful and comfortable is to something to stand on. Something like a non-slip standing mat will help your feet stay warm. Even when wearing large, warm boots, my feet got cold, especially on the bottom. One other thing, when I've painted without standing on something, the snow becomes compact and can become slippery. I've almost wiped out a few times.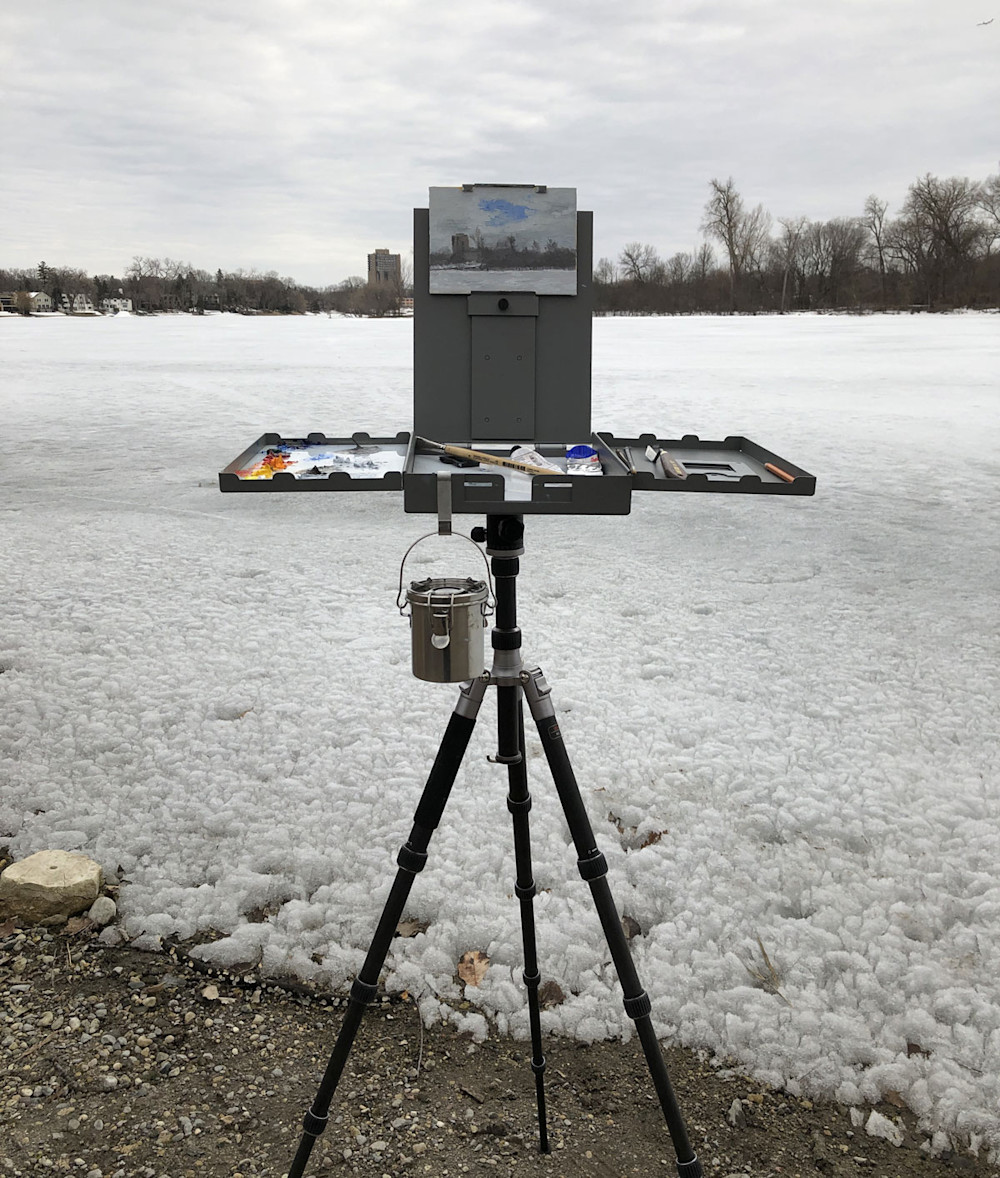 To maximize time painting, make sure you have some toned canvases ready to go. White is just too bright, especially when the sun is out. This same issue can come up if you are painting on a white palette. For winter painting, you may want to consider something halftone or wood. I use the grey matters disposable palette. While we're on the subject of painting surfaces, you might want to consider going smaller if you want to finish the painting in one session.
To block some of the brightness, you may want to use an umbrella. Like every season, there's the wind factor. I use Best Brella and it's worked very well since there are "vents" and it's easy to set up. But on a windy day, an umbrella is not ideal.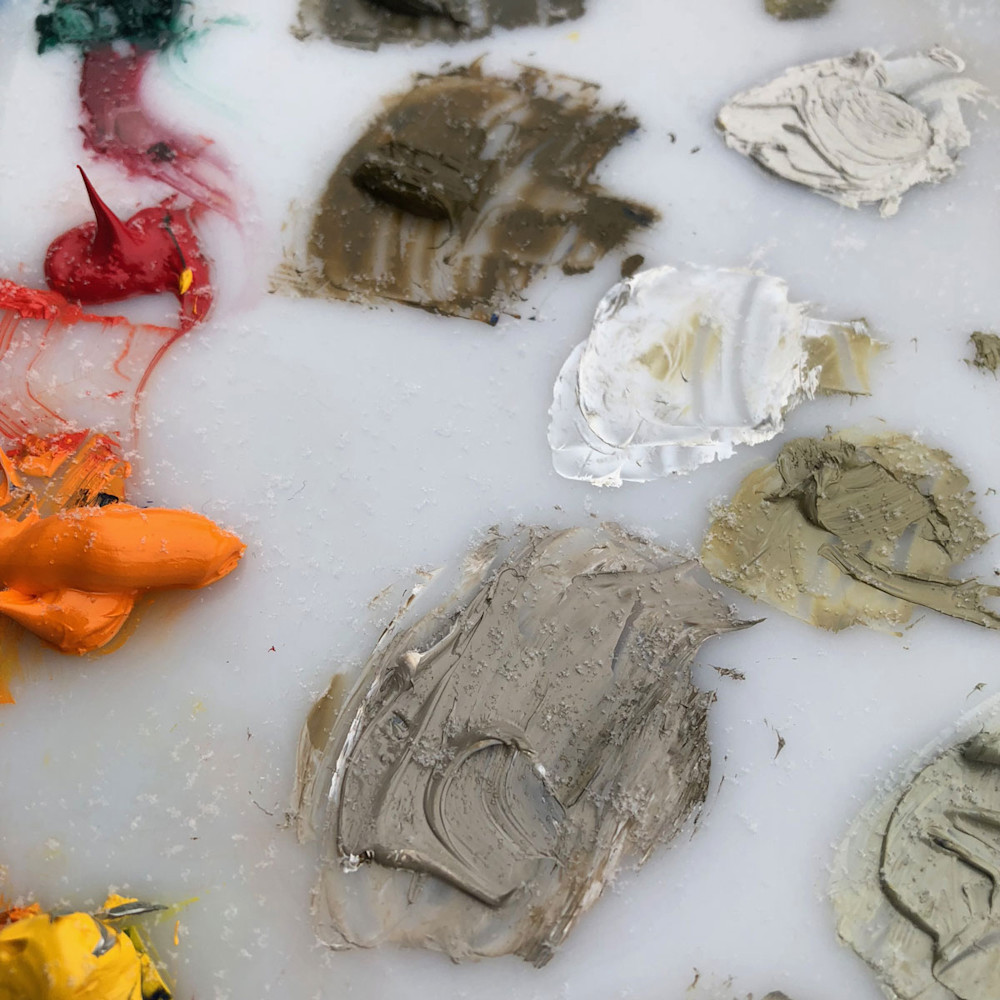 An umbrella might help shield your palette if needed. I've had a few instances where it was snowing and that was not good for the paint on the palette. Oil paints hold up well in the cold just fine. When it snows, this can be problematic. There's only so much snow that can mix with oil paints before the paint is unworkable.
Tip three: having a plan
Time is of the essence when you're painting, but also when you are heading to the painting location. Having a plan will help ensure that you spend more time painting. Simple things like keeping a journal with location ideas, scene planning can make a huge difference. If it makes sense to sketch out the scene one day and paint a different day, that may help you maximize your time out there.
Depending on the location, it's best to park as close as you can to the painting spot. It's great if you have the option to warm up periodically.
Tip four: take good reference photos
You have to paint fast when you're outdoors all year round, but it seems that conditions change very rapidly in winter. There's also the issue of having shorter daylight hours this time of year, so you really have to make use of your time out there.
Be sure to take photos periodically throughout the session. Winter skies change fast in my experience. If it's possible with your camera, try to bracket the exposure. If you're a professional photographer, you may know how to get the perfect shot, so this may not apply to you. I've found that having bracketed exposures really helps. With more photo options to reference, I can better view details in the scene, especially in shadow areas.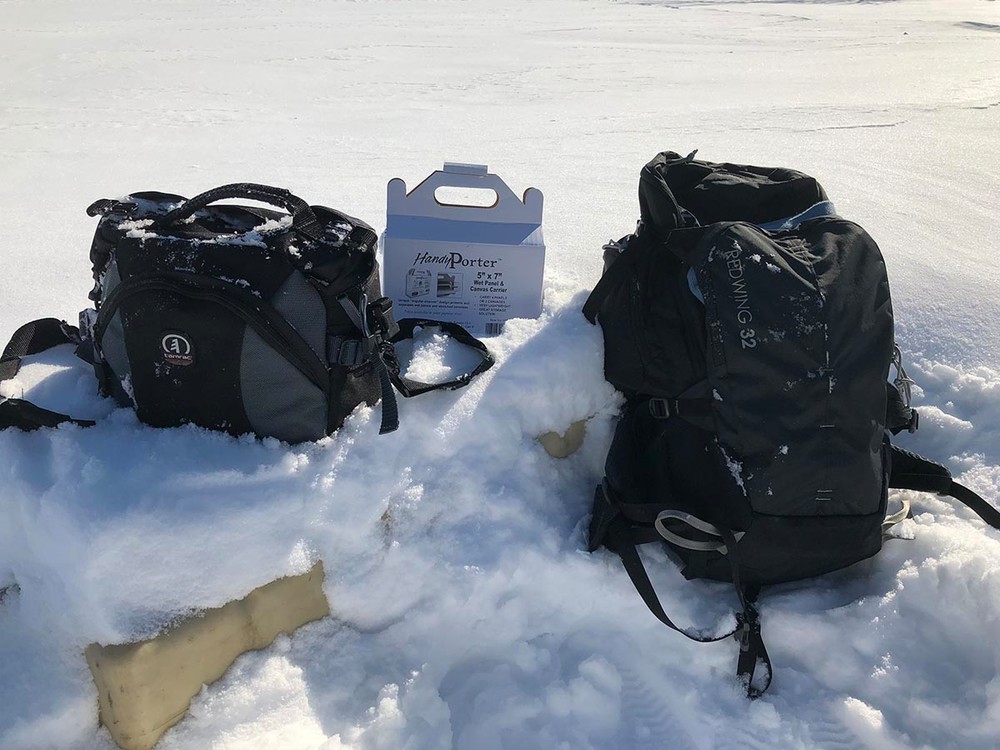 I've relied on references when making larger pieces from smaller outdoor winter studies. I was happy that I had a good reference photo to look at and definitely looked at and compared the various bracketed shots. I'm far from an expert photographer. When the photos were taken on bright days, they were definitely overexposed in my first few shots. When I bracketed, I was able to view more details.
Rather than hibernating indoors, make the most of winter by spending some time outdoors. With the right clothing, plan, and equipment, winter plein air painting can be pretty awesome.